The textile winter traction device keeps you moving in winter driving conditions. Full safety meets excellent design, since 1998.
Product Features of AutoSock AL74:
Approved and certified by the in-house standard of DAF Trucks. 
Quick and easy mounting and demounting.
Weight less than 2kg - easier to handle than conventional metallic snow chains. 
Lightweight, corrosion-stable and easy to store, especially in comparison to metal snow chains.
Self-centering while driving.
Compatible with all electronic safety systems (ABS, ESP etc.).
No vibration and low noise level.
The perfect winter traction device solution for trucks and buses caught in sudden snowfall or on icy roads.
Reusable and easy care, machine washable at 40°C.
Environmentally friendly and recyclable.
WHAT'S INSIDE

Each set includes two AutoSock and a set of gloves.
DIMENSIONS

48x41x8 cm (LxWxD)
18.9x16.1x3.1 in (LxWxD)

Weight: < 2.5 kg (< 5.5 lbs)

PLEASE NOTE:
Our product packaging may differ marginally in appearance and language for different markets around the world.
INSTRUCTIONS

- AutoSock shall be fitted to the driving wheels.
- Commence fitting from the top of the tire downwards, move the vehicle half a wheel turn and pull the remainder into position.
- Keep anti-slip programs activated (e.g., ASR, ESP).
- Start driving carefully and avoid wheel spinning.
- AutoSock will center itself when driving.
- Do not exceed 30kmh / 20mph.
- Always follow instructions stated in your car owner's manual.

Check our FAQ for more questions.
CARE

AutoSock does not require maintenance but we recommend shaking out dirt after use and letting it dry properly before repacking. AutoSock is machine washable at 40°C / 100°F. Please take AutoSock off overnight. 

Check our FAQ for more questions.
Share
View full details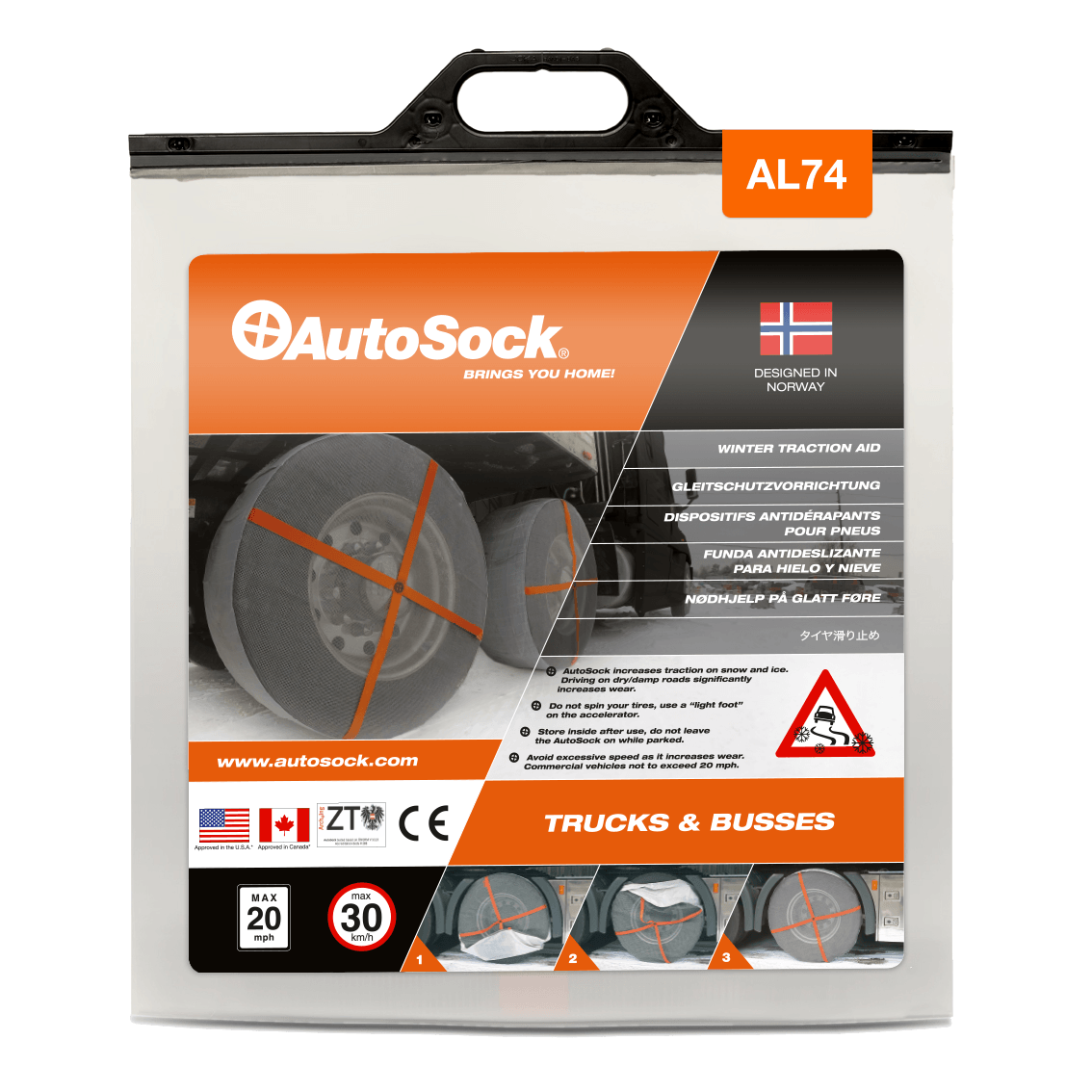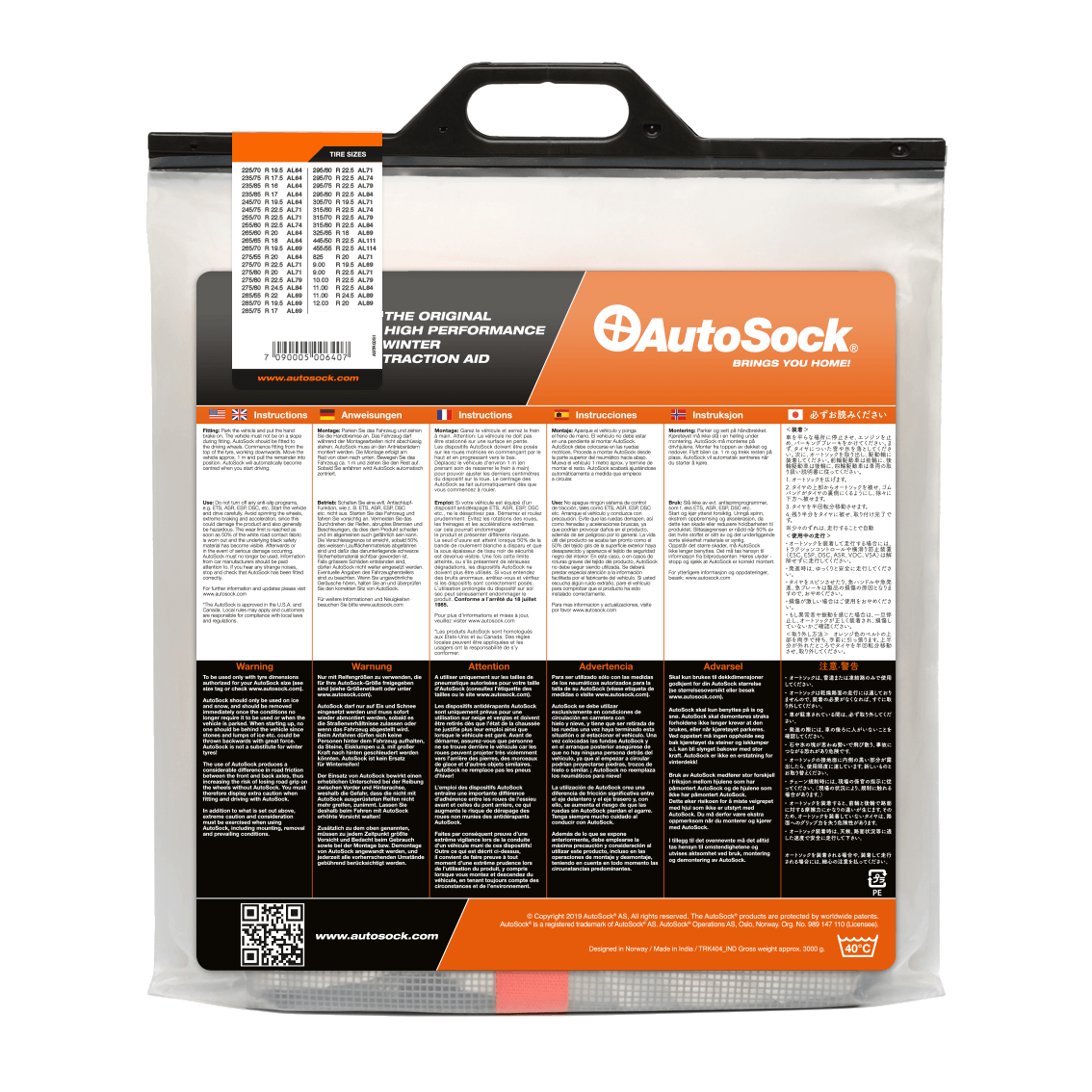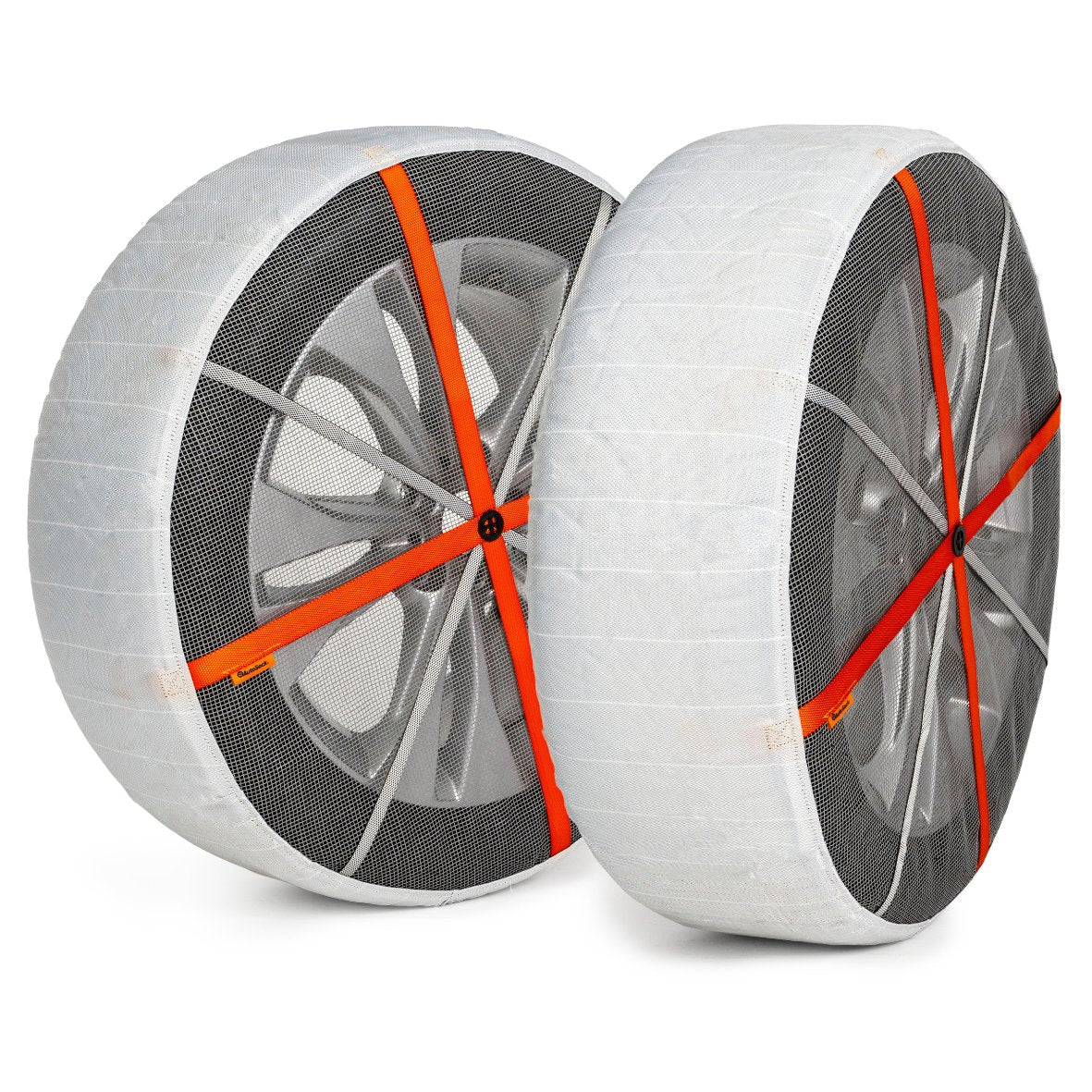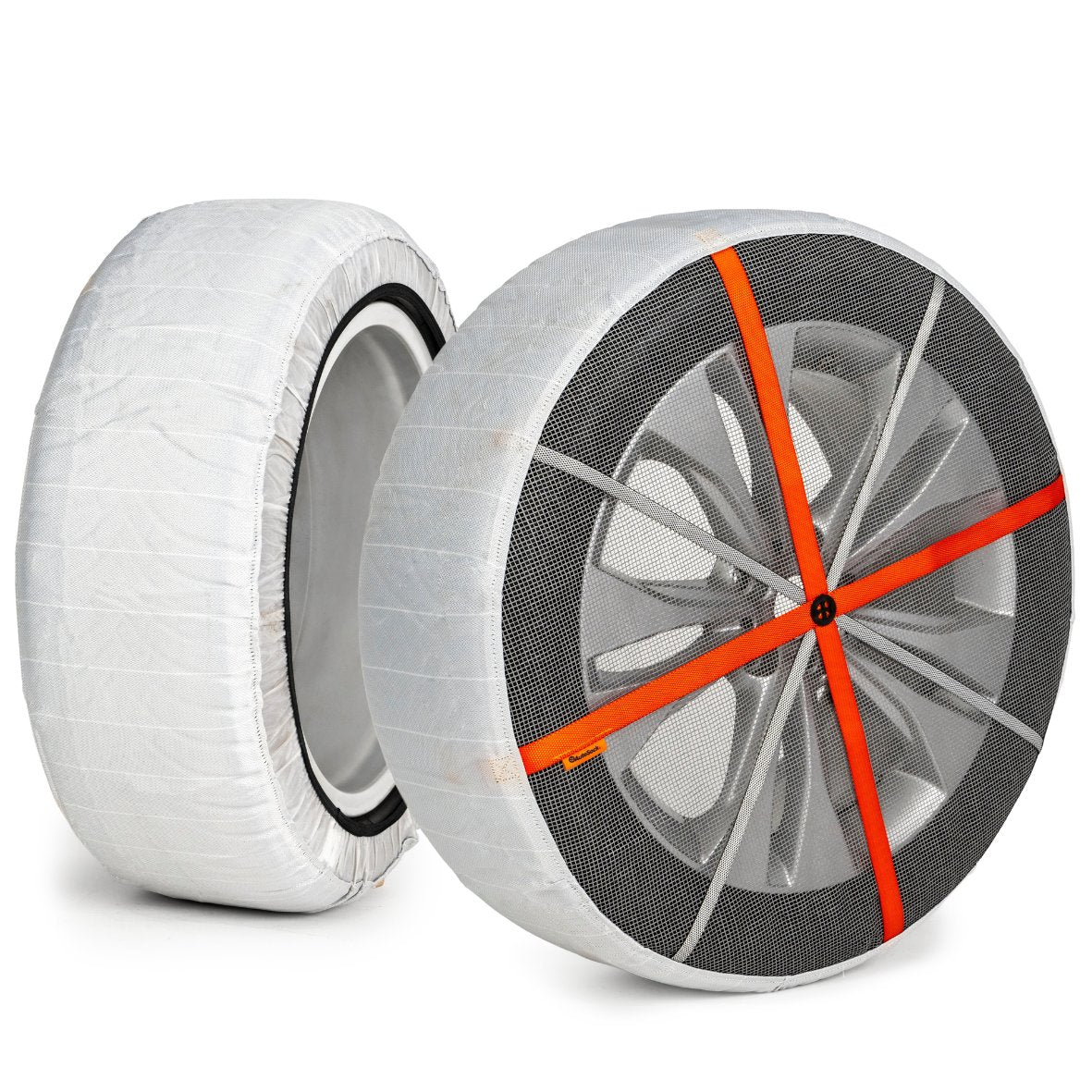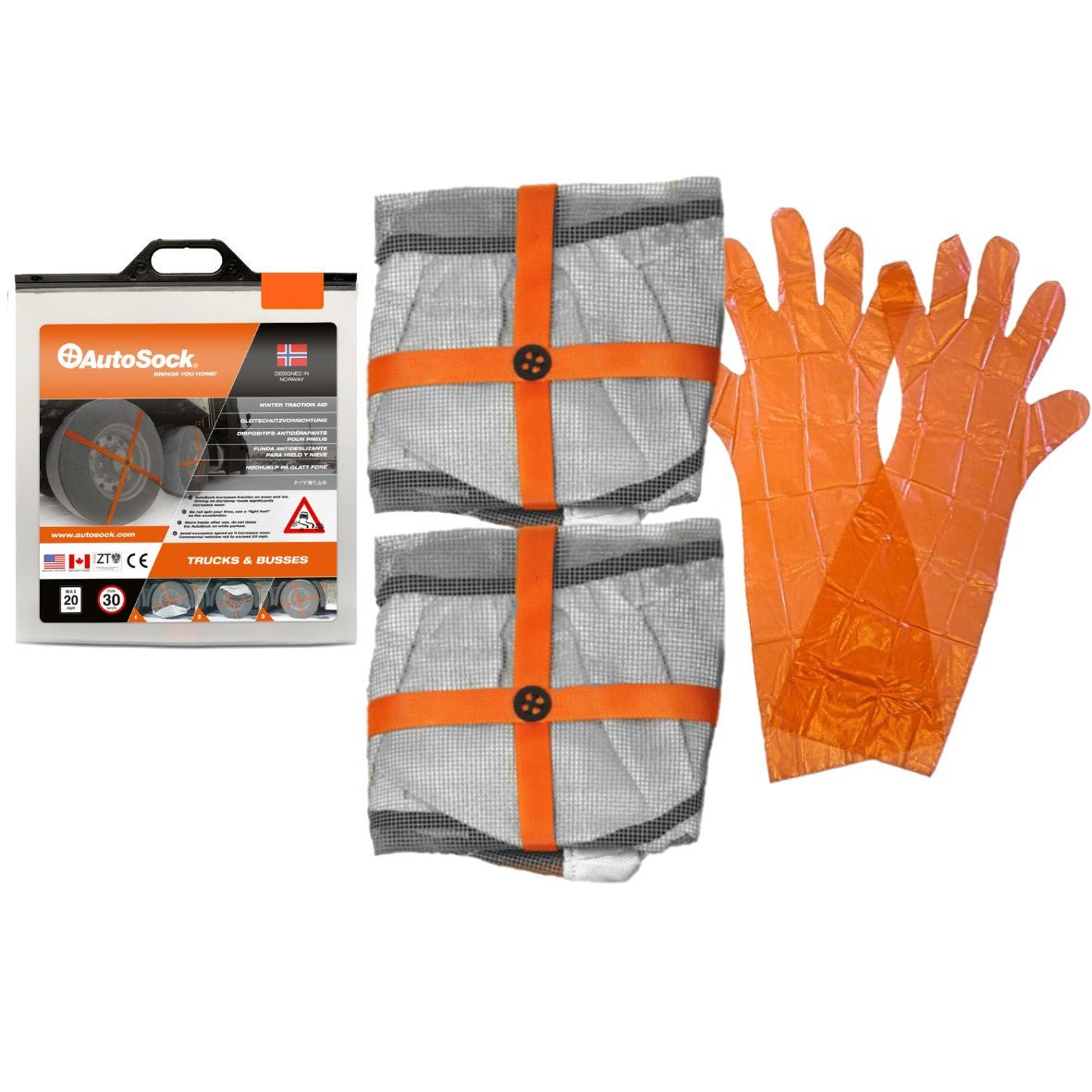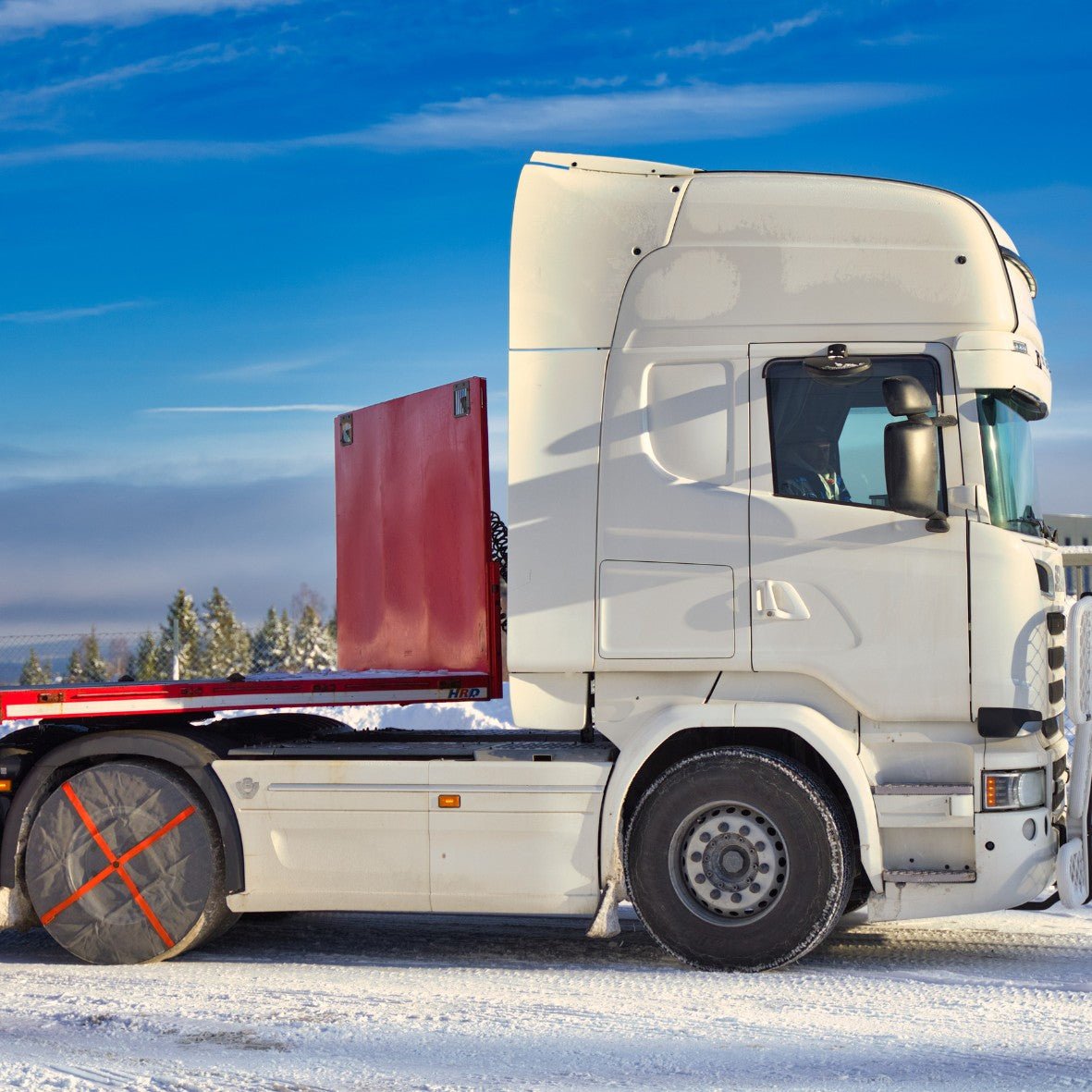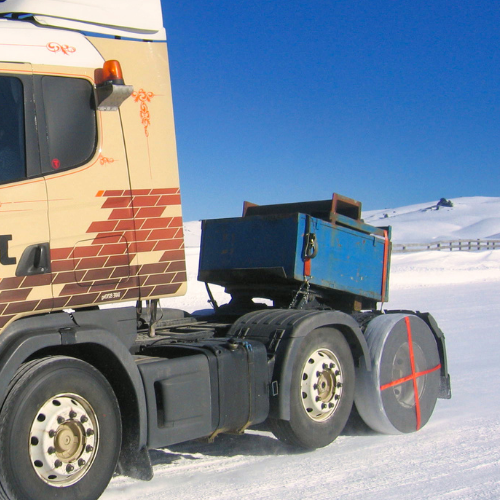 FOR TRUCKS AND COMMERCIAL VEHICLES
AutoSock for trucks helps you safe time and money when driving under severe winter conditions. Our snow socks are mounted in only a few minutes and keep your fleet moving. AutoSock for trucks is legally accepted as alternative to metal chains throughout the United States. We cover all important truck and bus wheels with 9 different sizes.
HIGHEST PRODUCT QUALITY IN ALL COMPONENTS
Front Fabric

The woven and coated net stabilizes the entire AutoSock and prevents snow or debris from gathering between the tire and the road contact fabric.

Straps

The straps give the snow sock its signature look. They assist mounting and demounting the product and add stability.

Road Contact Fabric

The unique fabric construction, provides a long product life and an outstanding friction. The arranged fibres facilitate the textile to absorb any water between the ground and the tire, thereby maximizing the dry friction grip.

Inner Fabric

Usually used for high quality parachutes, the inner fabric holds AutoSock in position, assures proper fit on the tire and supports the black elastic strap to reach its ideal position behind the tire for optimal tension.

Elastic

The elastic keeps the tire sock in position, supports self-centering and assures stable fit to the tire. The combination of tenacity, elongation force and elasticity for best performance was evaluated in extensive tests during the development of AutoSock.
MAKES A GREAT IMPRESSION: THE TEXTILE SNOW CHAIN FROM ALL PERSPECTIVES
SIMPLE AND FAST INSTALLATION
Step 1

Install AutoSock on the top half of your tire. Pull down AutoSock as far as possible.

Step 2

Move the vehicle half a wheel turn.

Step 3

Pull AutoSock over the remaining part of the tire.
Textiles tend to stick to dry snow and ice. The arranged fibres, used for the road contact fabric of AutoSock, facilitate the textile to absorb and 'wick away' any water between the ground and the tire, thereby maximizing the dry friction grip. Each thread of the road contact fabric consists of more than 100 fine high-performance fibres, which lead to a "hairy" surface of the AutoSock traction fabric. These "hairs" penetrate the slippery water film and connect the tires directly to the surface (snow). With correct use, AutoSock becomes "hairier" and even improves performance over time.